For your theater or auditorium carpet factory, are you looking for the ideal carpet? Look nowhere else! The atmosphere, comfort, and durability of a theater are significant to auditorium carpet. The overall experience for both performers and audiences is enhanced by our premium carpet tiles. In this post, we'll look at the various advantages of carpet tile for theater, why they're a great option, and how our products stand out for their comfort, style, and longevity.
1. Carpet tile flooring's allure
A ground-breaking idea that has revolutionized the industry is carpet tile for theater. Compared to conventional broadloom carpets, these modular carpet squares have many benefits. Their distinct design makes installation and replacement simple, which makes maintenance a breeze. We can meet the design requirements of every theater thanks to our extensive selection of colors, patterns, and textures. We have the ideal carpet tile for theatre hall, whether you want a modern, minimalist ambiance or a lavish, sumptuous setting.
2. Unmatched Robustness for Continual Performances
Theater carpet withstand heavy machinery, a lot of foot activity, and the occasional spill. Here is where carpet tiles demonstrate their durability. Our carpet tile for theatre hall are designed to endure the most demanding circumstances without losing their aesthetic appeal. Each tile is carefully made from sturdy materials to ensure that it keeps its integrity even after years of use. Bye-bye to tattered, ragged carpets and hello to enduring beauty and toughness.
3. Appreciate the Comfort of Your Shoes
Being comfortable is surely a top consideration for you as a theater aficionado. For both artists and audience members, carpet tile flooring offers a luxurious and cozy surface. Everyone will love the experience because the softness underfoot makes standing or sitting for extended periods of time less tiring. Additionally, the carpet's noise-canceling qualities help to improve the theater's overall acoustics by producing a nice acoustical atmosphere.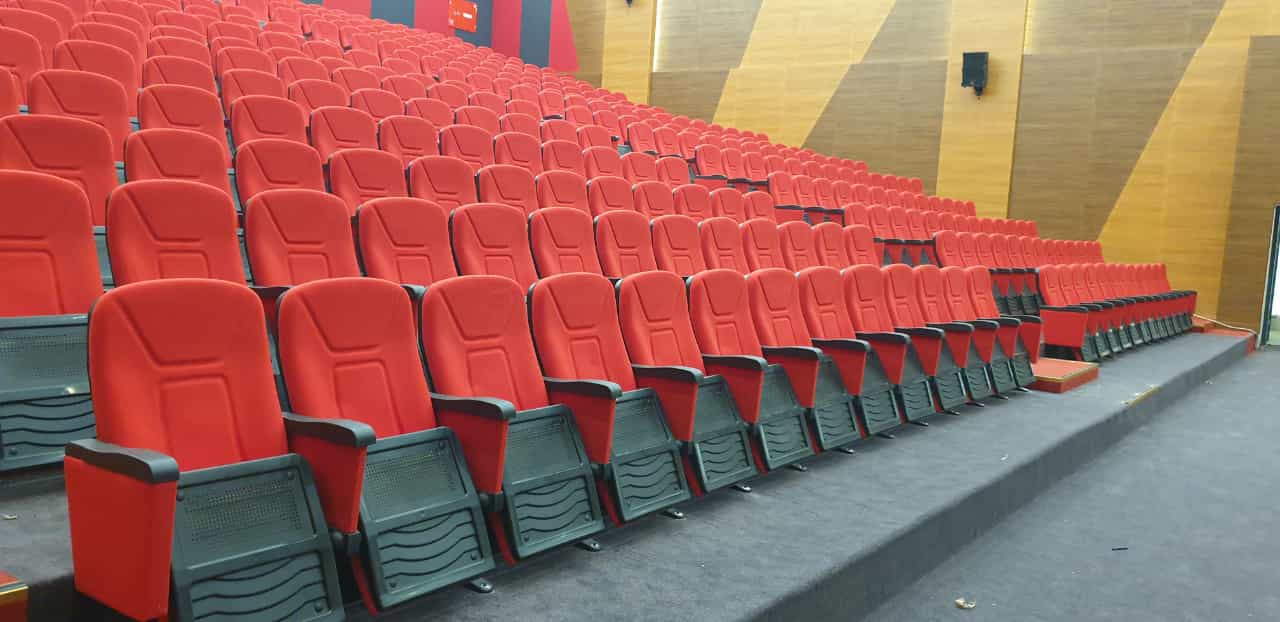 4. Improve the Aesthetics of Your Theater with Auditorium Carpet Tile
Our high-end auditorium carpet tile are from Turkey, which is recognized for its long history of carpet weaving. These carpets exhibit superb craftsmanship, unique patterns, and vibrant colors that give any theater life. By selecting our Turkish theatre carpets, you not only invest in an opulent floor covering but also provide your audience with a memorable cultural experience.
Enhance the Ambience of Your Venue with Theater Carpets!
Look no further than AuditoriumCarpet if you're looking for theater carpets that check all the right style, toughness, and comfort boxes. We are certain to have the ideal answer for your theater's needs thanks to our extensive selection of carpet tile solutions, which includes high-end auditorium carpet from Turkey.
Conclusion
Carpet tiles are the undisputed victor when it comes to picking the best carpet tile for theater since they offer a cohesive combination of design, toughness, and comfort. You may create a theater experience that enthralls audiences and keeps performers inspired by using AuditoriumCarpet's magnificent selection of carpet tiles, which includes the opulent Auditorium carpet from Turkey. Let us work with you to make your theater a place that radiates class, endures the test of time, and envelops everyone in a cozy sense of comfort. Prepare to watch the magic happen on the stage of your theater while being surrounded by flawless carpet tiles!