Welcome to AuditoriumCarpet's educational post on the major effects commercial carpet tile can have on output and morale in diverse contexts. We recognise the value of establishing a comfortable and motivating environment as a customer looking for high-quality solutions for your flooring needs. In this article, we'll examine the advantages of using commercial carpet tile flooring, with a focus on how they can improve morale and productivity in places like auditoriums, movie theatres, and other commercial settings.
The Unmatched Versatility of Commercial Carpet tile flooring:
Commercial carpet tiles are an excellent option for a variety of areas because of their unparalleled versatility. These tiles offer countless design options for any commercial space, including auditorium carpet factory, theatres, and other spaces. The simplicity of installation enables you to design distinctive patterns and colour schemes that complement the image of your company, promoting a friendly and warm environment.
Enhancing Acoustics for Auditoriums and Movie Theatres:
Acoustics are essential to the success of auditorium carpet factory and movie theatres because they have a direct impact on the entire experience of the audience. Excellent sound-absorbing qualities of commercial carpet tile for cinema serve to lessen noise disruptions and echoing, allowing everyone to concentrate on the event or movie without interruptions. The environment is improved and made more immersive by this function, making a lasting impression on your visitors.
Productivity and Comfort:
In professional settings, visitor and employee comfort can have a big impact on output. commercial carpet tiles provide a comfortable and firm surface for walking, which lessens strain and tiredness even when standing or moving for extended periods of time. People become happier and more motivated as a result of the greater comfort, which increases productivity throughout the day.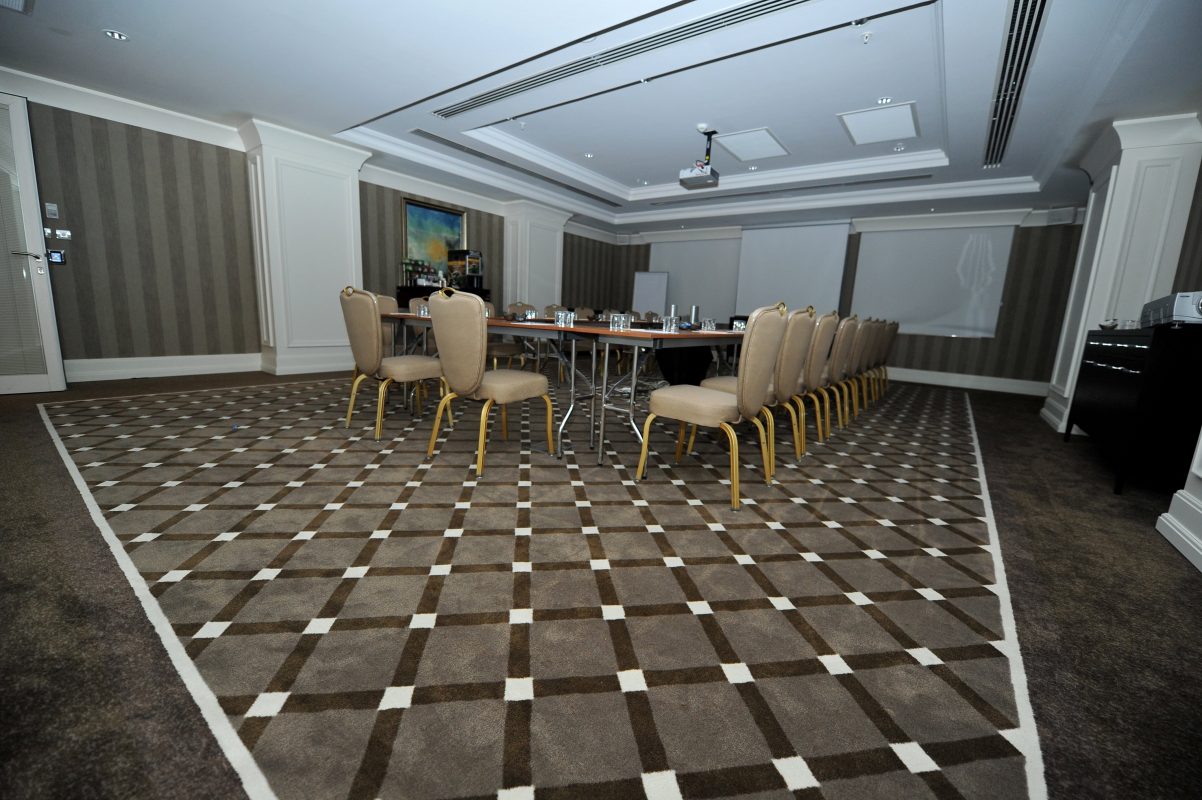 Easy Maintenance and Durability:
Keeping a commercial place clean and organised is crucial. Commercial carpet tile flooring are stain and wear resistant because they are made with durability in mind. These tiles can sustain heavy use in high-traffic places like Auditorium carpet factory and movie theatres without losing their aesthetic appeal. Additionally, because of its modular construction, broken tiles can be quickly replaced, keeping your room looking clean and welcoming.
Turkish auditorium carpet tile:
Look no further than AuditoriumCarpet for the highest calibre auditorium carpet tile. Our Turkish carpet tiles offer unmatched performance and aesthetics thanks to their meticulous construction and attention to detail. By deciding on AuditoriumCarpet products, you make an investment in durable solutions that improve the morale and efficiency of your commercial area.
If you're seeking for high-quality auditorium carpets in particular, AuditoriumCarpet's extensive selection has you covered. With our outstanding selection of Turkish-designed and -manufactured auditorium carpet tile, you can make your area into a lively and motivational atmosphere that increases output and morale. Explore our extensive selection of auditorium Carpet tile for cinema on our website to find the ideal fit for your commercial area.
Conclusion:
Any business or commercial organisation would be wise to invest in commercial carpet tile. These tiles' adaptability, acoustical advantages, comfort, and durability boost productivity and morale among staff members, guests, and customers alike. Keep in mind that superior Auditorium carpet from Turkey from AuditoriumCarpet may take your area to new heights as you work to create a welcoming and practical setting. Why then wait? Discover the difference that commercial carpet tile for cinema can make and bring out the best in your commercial area. We at AuditoriumCarpet are here to meet all of your flooring requirements and to provide environments that uplift and encourage.