Welcome to AuditoriumCarpet, where we provide Carpet Tiles, the ideal flooring option for your movie theater hall. Look no further if you're seeking for a cutting-edge, fashionable, and useful flooring solution. We'll go over all you need to know about carpet tile for movie theater hall in this extensive tutorial. We've got you covered on everything from the advantages they provide to the installation procedure and maintenance advice.
1. Getting to Know Carpet Tile Flooring
Let's start off with defining carpet tile flooring. Individual squares or planks of carpet material, commonly referred to as carpet tile for cinema or modular carpets, are created to be placed together to cover substantial regions. They are a flexible option for movie theater halls because they are available in a variety of hues, patterns, and textures.
2. The Advantages of Carpet Tile in a Theater Hall
Acoustic Excellence:
Noise reduction is one of the main issues in a theater. The outstanding acoustics of carpet tiles allow for an immersive movie-watching experience by absorbing sound waves and decreasing echo.
Reliability and Ease of Replacement:
The carpet tiles from AuditoriumCarpet are incredibly resilient and long-lasting. Additionally, replacing individual tiles is simple and can save time and money if any area of the carpet tile flooring is broken.
Aesthetic Appeal:
Our Carpet tile for cinema are available in a variety of patterns and hues, enabling you to create a visually appealing environment that goes well with your movie theater's theme and furnishings.
3. Installation Instructions in Detail
Surface Preparation:
Prior to putting in the carpet tiles, make sure the subfloor is clean, level, and dry. The overall finish may be impacted by any subfloor flaws.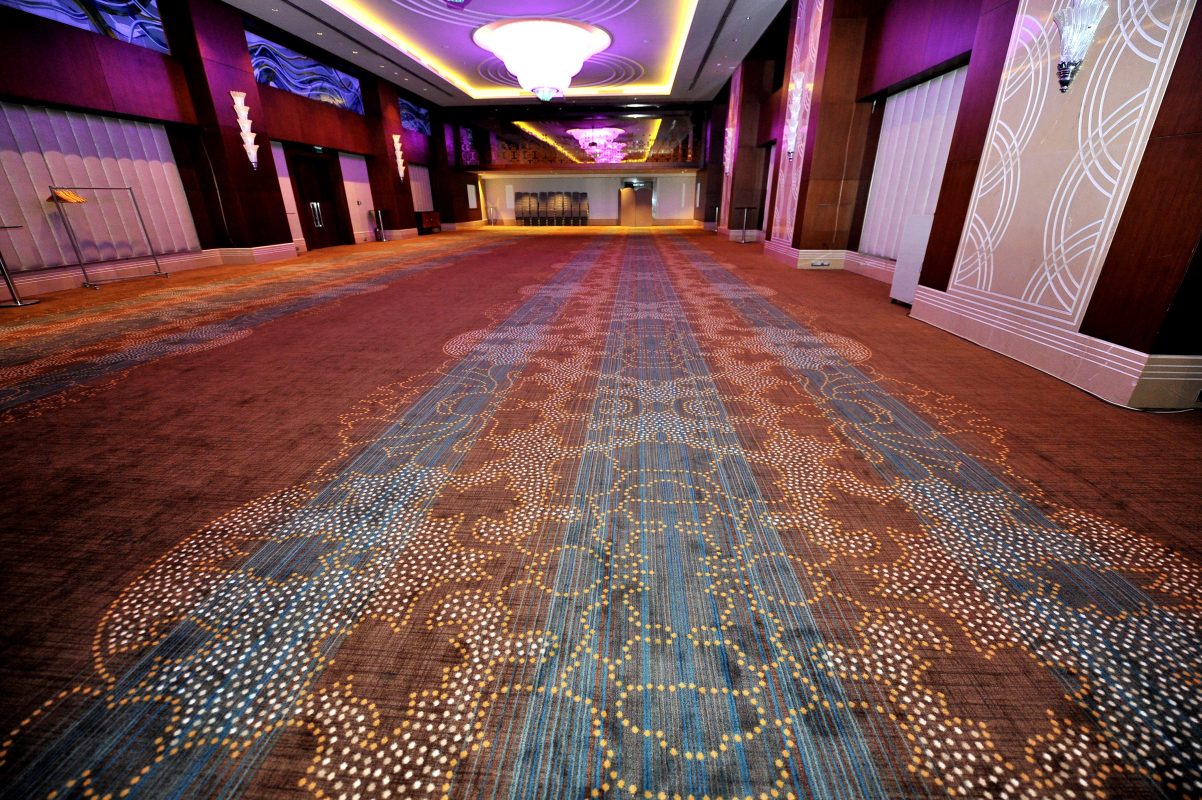 Placing the Tiles:
Begin by placing the tiles in the room's middle, then go outwards to the edges. For a tight fit, use auditorium carpet from Turkey tile adhesive or double-sided adhesive tapes.
Cutting and Trimming:
If necessary, trim the tiles' edges and corners to ensure that they completely suit the scheme. Because AuditoriumCarpet tiles are simple to cut, the technique is simple.
Finishing touches:
After all of the tiles have been set up, use a roller to make sure they are properly adhered and that the surface is smooth.
4. Tips for Longevity Maintenance
Regular Cleaning:
To remove dust and debris, vacuum the carpet tile for cinema frequently. To keep your auditorium carpet from Turkey looking clean, use one occasionally.
Stain Removal:
Blot the affected area right away with a clean cloth in the event of spills or stains. Scrubbing should be avoided as it could harm the auditorium carpet from Turkey fibers.
We at AuditoriumCarpet are quite proud of our craftsmanship and high-quality goods. Discover our curated selection of Auditorium Carpets, each one expertly handcrafted in our modern Auditorium carpet factory in Turkey.
Conclusion:
Carpet Tile for Movie Theater Hall is a smart investment because they provide the ideal balance of beauty, usability, and longevity. You may turn your theater into a compelling and cozy cinematic sanctuary by installing high-quality carpet tiles from us. We sincerely hope that this step-by-step guidance has been instructive and aids in your decision-making for your Carpet tile flooring requirements. With the carpet tiles from us, you can create unforgettable cinema experiences.